You are hereKnock Knock, There's a New Doctor in Doctor Who: Podshock 342
Knock Knock, There's a New Doctor in Doctor Who: Podshock 342
---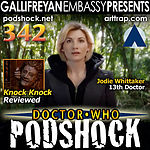 Doctor Who: Podshock - Episode 342
Running Time: 1:57:30
We recap the news since our last episode including the news of the new 13th Doctor played by Jodie Whittaker and we review the four episode of the 2017 series (AKA "Series 10"), 'Knock Knock'. Hosted by Louis Trapani, Dave Cooper, Lee Shackleford and Kyle Jones.
Get a FREE audiobook download from Audible with a FREE trial and support our show in the process!
Brought to you by the Gallifreyan Embassy and is a production of Art Trap Productions.
Below are the links to the Enhanced Podcast AAC format and MP3 format version of the podcast.

If you are subscribing to our podcast via one of the feeds, you will get it automatically. If not, you can also grab it manually using one of the links above.

Doctor Who: Podshock an international Doctor Who podcast premiering in 2005 by the Gallifreyan Embassy and produced by Art Trap Productions.

Episodes on iTunes:

Amazon Episodes: