You are hereBlogs / Louis Trapani's blog / Atari's Greatest Hits Universal iOS App 99-Game Pack is Free for a Very Limited Time
Atari's Greatest Hits Universal iOS App 99-Game Pack is Free for a Very Limited Time
---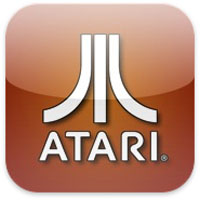 If you are of my generation, you saw the rise of the video arcade and home video gaming while growing up. Suddenly we noticed dust gathering on the old pinball game machines in the arcades as they were being replaced by these upright video game machines in the late 1970s and early 1980s. Many of them bore the name "Atari" on them. At the same time, a little machine called the Atari 2600 (actually at the time, I believe it was simply called the Atari VCS (Video Computer System)) which allowed you to play video games with your home television set (be it color or black and white).
You can play many of those titles from the arcade and Atari 2600 on your iOS device with the universal app called Atari's Greatest Hits - Atari (App Store affiliate link). For a limited time, you can get the complete 99-game pack (in-app purchase) for FREE. It is only available on August 31-September 1, 2012 in your local timezone. So act fast if you want it (I just discovered it myself now).
As a youngling, I only had a few of the 2600 game cartridges. I was more into Intellivision at the time for home video gaming followed by Colecovision… I did return to Atari video games some years later with more advanced systems. So the arcade games here interest me more. Not included in the 2600 game pack here is the Superman title that I played all the time with a friend who I recently lost. It would had been nostalgic it play that again. The Atari 2600 games won't win any awards for eye-candy, but I suppose they have a certain charm about them.
Unfortunately the flat glass of an iOS device doesn't compare to the physical controllers of the arcade or the 2600 and I believe that plays an important factor in gameplay. 
Also to my understanding, these games you download now for free are only there while you have the game installed in your device. If you were to reinstall the app, the free games will not be carried over. That is how I understood the disclaimer when I read it, I could be wrong. The 99-game pack is normally $9.99, so you may want to think twice before deleting the app now.