Are You Experienced?
---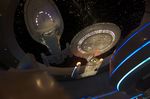 As I write this, the Star Trek Experience is set to close forever in just over a week from now. Fortunately, I had the opportunity to experience the Star Trek Experience just prior to it's closing.
After 11 years, the Star Trek Experience is coming to an end. From what I had overheard while in Las Vegas within the Experience by someone who is said to be one of the managers there, the decision has more to do with the Hilton hotel where it is hosted than anything else. With a new film on it's way out in less than a year, set to revitalize Star Trek fandom, with a huge Star Trek convention taking place just the weekend prior to my visit with 70 Star Trek guests, with lines to get into Quark's Bar and Restaurant every night, with the Experience "rides" themselves filled to capacity, it's hard to understand why they want to close it. It seems like the audience and the attendance is there. At first, I thought perhaps it was busy because like myself, there were many others in the hotel attending the New Media Expo which is mainly attended by tech geeks, myself included, of which many are crossover science fiction geeks, again, myself included. Perhaps, but there are shows in Vegas all the time. It's a destination town to say the least. Admittedly, with the cancellation of Star Trek: Enterprise and with the new reboot of Star Trek in the forthcoming film being pushed back from a Christmas 2008 release to a May 2009 release, perhaps there is a dip in fandom at the moment. Many have argued that perhaps Star Trek needs to go away for while so it could return strong. Along the same lines as Doctor Who and Battlestar Galactica to site two recent examples of successful returning series.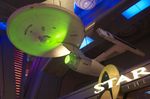 The Star Trek Experience consists of various components. Some of which are free for all visitors, while others require you purchase admission (or what they call tickets to their "rides"). The "rides" consist of two shows (a better word than "rides" in my opinion). One is the Klingon Experience and the other is the more recent addition, the Borg Encounter (in "4D"). I initially was hoping to podcast right from the Experience, but as for the "rides" or shows themselves, all recording devices, including cameras are prohibited. It's a real shame too, just to get some photos while standing on the full size replica of the Bridge of the USS Enterprise NCC-1701-D would have been fantastic. As implied earlier, these "rides" are more theater than an amusement ride. The actors participating in them seem as if they have played the part perhaps more times than they care to recall and knowing that it was all coming to an end in just a couple of weeks probably were factors in many of them just going through the motions. Yet having said that, there's only so much they could do with their parts. After all, these are not full length Star Trek television episode stories we are talking about.
While some of the 3D... err.. 4D effects of the Borg Encounter were impressive, I believe that the original Klingon Encounter ranks a little higher even if it may be a little dated now. Hey, nothing really beats standing on the Bridge of the Enterprise as you do with the Klingon Encounter. This show seems to give you a little more overall its experience as opposed to the Borg show.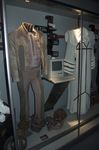 Admittance to the shows (at this time, one ticket purchase is good for both shows over a 24 hour period) also gives you access to see the museum part of the experience. Various props, models, costumes, and timelines of the various incarnations of Star Trek were on display to see and enjoy. All except for the often forgotten Star Trek Animated Series. I would had thought that a few animation cells on display could at least represent this series. Unless I missed something, which is very possible as my time was limited and I pretty much had to rush through much of the displays in the museum section. Knowing that, I tried to photograph as much as I could so I could study and inspect it later. I didn't have time to fuss with a tripod, and knowing that using a flash could result in just big bright reflections on the display glass or plexiglass (or was it transparent aluminum?), which meant some came out a bit blurrier than I had hoped.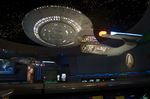 Overall, the whole Experience is grand. I am speaking as a lifelong Star Trek fan, so your mileage may vary. The huge models of the starships hanging above, were quite impressive in themselves. While not full scale, they wouldn't fit in the hotel if they were, they were still huge and very impressive (I do apologize for overusing that word). Included are the starship Enterprise "A" if you will, the film version of the Enterprise as well as the "D" version from Star Trek: The Next Generation, Voyager, and a Klingon Bird of Prey (which was somewhat hidden in the darkness, but it's cloaking device was not engaged, and the keen eye will catch it).
These ships hung and were visible as you enter the "rides" and museum as well as hanging above the restaurant area of Quark's Bar and Restaurant. Although I did visit the bar and restaurant more than once, I never got to sit in the area that were under the massive starships. As I said, the establishment was always busy the times I had been there.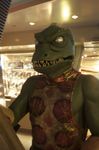 Lurking on the ground were the Gorn that seemed to acting as a bouncer as it was guarding the entrance to the bar area of Quark's. On the other end there was Nancy... Ahh... Nancy Crater. Well, not exactly, but the shape-shifting salt sucking creature that had at one time taken the form of Nancy Carter in the first aired Star Trek episode, The Man Trap. These were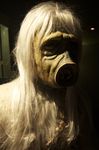 very imposing and awesome figures, but even more interesting were the various actors walking the area mingling with the crowd as Klingons, Andorians, Borg, classic Star Fleet personal (there was a woman dressed in short mini-shirt similar to Uhura of the original series), among other iconic figures from Trek among the crowd interacting with them in character.
Finally, of course there were the gift shops. Filled with various Star Trek goodies. From communicator replicas to teddy bears dressed as the Borg (that or they were just plush bears into SNM). I figured I would stop in the shop on my way out so I wouldn't have to carry an extra item with me (I was there with my laptop in my backpack and camera gear in another bag at my side -- I was already feeling weighted down). Unfortunately, in my rush to checkout of the hotel to catch my flight back home, I never made it back to shop, so I came away alas empty handed.
Even with the Gorn and "Nancy" there and the sole woman dressed in a classic uniform, I felt that the original series were underserved here. Even still, I am glad I got to see it before it closed.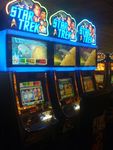 Star Trek was not limited to the confines of the Experience only while in Las Vegas. The connecting casino area which one has to walk through to get to the Experience was in a space port theme. You can find Star Trek slot machines in the hotel (as well as even a small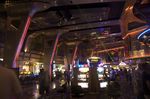 cluster of Star Wars ones too). There was even a Star Trek themed video short being played at the Vegas airport demonstrating how to get through the airport security screening process.
It's a shame that the Experience is coming to an end, what is even more shameful is the thought of so much of it is going to be junked. I am sure that the items in the museum will go back to Paramount studios... but all the other elements I was informed will be disassembled and destroyed. I would sure love to have that Bridge replica... What of those huge starships hanging above? I did see an empty case which had a note on it stating it was sold. It leads me to believe that they had auctioned some items off already. Perhaps the fate of the rest of the items will be sold off via an auction of some kind? There was a wall of posted notes (just like the fence surrounding ground zero in NYC after September 11, 2001) on a wall in the Experience. People who were married there, and others that wanted to post something about how they feel about this special place now that it is closing posted notes of what it meant for them.
No one seems to know what will be taking its place. Or if they do, they are not talking. One rumor in which I overhead a manger there stating was that the latest was that it would be replaced with a "Michael Jackson Experience" -- What?