Initial Impressions and Thoughts on Google Plus
---

The last several days I have been testing and trying out the new social media platform, Google+ which is currently in limited beta by (no surprise) Google. Before you ask, Google had disabled invites for the time being due to overwhelming demand. So I have no invites to share at this point. That said, it seems that Google does open the barn door from time to time (unannounced). So you may be able to get in if you are lucky enough. (Many people have already requested an invite from me, when I can, I will try to give them to those friends and followers that have requested one from me.)
What is Google+? The easy answer is to say that it is Google's answer to Facebook. While that may be true on certain levels, it is its own social networking service built on existing Google technologies with others added. Some may use it instead of Facebook, others may use it in addition to Facebook, some may not use either. In my experience so far, it has a similar vibe to what Friendfeed was back in the day, just without the automatic feeds pumping into it.
You may be saying, "But what about Google's previous attempts of social networking, like Wave or Buzz?" I never thought of Wave so much as social networking, but more as a communication tool similar to email, but that is another matter. I believe Google has learned from those experiences and Google+ is something other, grander than what Wave was or Buzz is today.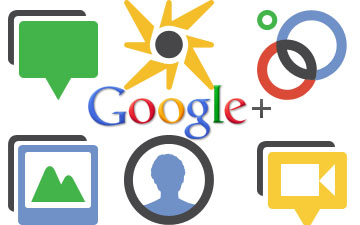 The site updates in real time, similar to Friendfeed (another reason I find a similarity). In some ways it reminds me a little of Twitter as well in that regard.
This isn't a review. Google+ is still very much a beta product right now and if I was going to go through all the pros and cons of the mechanics of the service, it might be outdated tomorrow. I suspect that Google will be adding and changing features fairly steadily going forward. Though since so many have been asking me about it, I wanted to give my initial impression of the service. (You didn't think I did impressions, did you?)
So far, I am very impressed with it. In fact, it may be too compelling at this point. It is very easy to loose yourself in it. I have fallen guilty of this already.
Google has not only learned from its past ventures into this realm (anyone remember Orkut? No, I didn't think so. Though I still have an account there, I assume it is still going), Google has also learned from other social networking services such as Facebook and Twitter and is trying to approach this in a way that would be beneficial for those who had already been using those services and others to better manage the people you follow and those that follow you. Unlike Facebook, you need not follow back everyone that follows ("friends") you. In this regard it is more like Twitter, though there is less of an emphasis on follower and following counts (at least as of now). I find this refreshing.
Google+ uses a circle metaphor (circles of friends) for classifying and categorizing relationships. I won't get into the nuts of bolts of it, but put simply, you start off with one circle for friends, one for family, one for acquaintances, one for just following, and then you create your own additional circles. Those that follow me on Twitter know that I have very diverse interests. If you are following me because of the shows I produce on Doctor Who or science fiction, you will see that I tweet a good deal about technology. Those that follow me because I do tweet about technology will see that I also tweet about photography as well, and so on. Google+ allows you to create circles for these different interest and place people in them in circles which you feel would interests them (the content you share in that circle) on the service. So in other words, I could create a circle for those that interested in photography and when I post about it, only those interested would see those posts. The same goes with my other interests.
While this is good, there are pros and cons. One of the cons I feel is that it limits discovery. Perhaps you are following me for my tech content on Google+, but you have no idea that I also host and produce shows about science fiction because you are not in those circles. So I believe that Google needs to give users the option of making certain circles public. They are currently all private. A public circle may not need to reveal who is in the circle, but give followers the option of joining a circle if it is something which appeals to them. Google+ is still in beta and for all we know that feature is coming. This is why I can't really get into all the pros and cons of the service itself because it is evolving quickly now.
From what I can see from those using the service and those tweeting about it and blogging about it, that everyone is pretty excited about Google+ now. Myself included. While some of this goes to the service functionality itself, I believe another factor is the community that is there now. If you are tech oriented and a first adopter of new technologies type, you will find many kindred spirits like yourself there now.
You won't find dancing kittens, mafia farms, and a bunch of noise which you may see elsewhere. You won't even see ads now (though I am sure they will be coming in time). So this has been a wonderful playground for those of us using it now.
Wow, I have done it again. This was meant to be short piece of only a couple of paragraphs or so. Therefore let me wrap it up now. I haven't even touched on many aspects of the service such as "Hangouts" (where you can video chat in real time with other users as you would if you just hanging out in a pub with each other), Profiles, Photos (it incorporates your photos from Picasa if you have been using it. If you upload your photos via Google+ directly, it will give you unlimited storage though the resolution will be restricted to no more than 800x800), Streams, Sparks, +1s, etc. So perhaps I will be writing more about Google+ in the future. I think the service is off on a good foot now. It still has a way to go and there's plenty of room for improvement, but again, this is an early limited beta roll out. I suspect many of the features we might be crying for now are already in the works (as is the iOS client for Google+, there already is an Android version released. Word is that an iPhone client has been submitted to Apple is now just waiting for approval).
You can find me on Google+ by going to http://profiles.google.com/louistrapani