You are hereA Note About Doctor Who: Podshock 233
A Note About Doctor Who: Podshock 233
---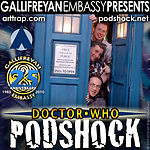 A Note About Doctor Who: Podshock - Episode 233
Running Time: 0:02:24
On Saturday, the 8th of January, Ken, James, and Louis recorded Doctor Who: Podshock 233. Unfortunately due to a technical problem with the Skype audio that was not apparent until after the recording, the episode as it was recorded is not usable in its entirety. We had hoped this episode would had been released by now. We are working on scheduling another recording with the three of us as soon as we can, in the meanwhile we will try to get other episodes of Doctor Who: Podshock out to you. We apologize for the delay.
Hosted by Louis Trapani ( @LouisTrapani ).
This podcast is made possible in part by Podshock Supporting Subscribers and from donations from listeners like you.
Get a FREE audiobook download from Audible with a FREE trial at www.audiblepodcast.com/arttrap.
Brought to you by the Gallifreyan Embassy and is a production of Art Trap Productions.
Below is the link to the audio note about Doctor Who: Podshock 233
If you are subscribing to our podcast via one of the feeds, you will get it automatically. If not, you can also grab it manually using one of the links above.
Doctor Who: Podshock an international Doctor Who podcast premiering in 2005 by the Gallifreyan Embassy and produced by Art Trap Productions.