5 Reasons To Go To Blogworld & New Media Expo 2009
---
TWIT Live at NME '08: Leo Laporte streaming liveNext month is the Blogworld & New Media Expo 2009. October 15 - 17, 2009 is the first expo/confonrence after Blogworld merged with the New Media Expo. It is a trade show for anyone involved with new media. Be it podcasting, blogging, social media, vblogging, etc. there is something for you at the Blogworld & New Media Expo.
I attended last year for the New Media Expo 2008 in Las Vegas, NV and found it enlightening to be around like-minded individuals working in new media.
Last year was the first year it took place in Las Vegas, where previously it was held in Ontario, California. There were some growing pains in that move. Many prior attendees complained they missed the intimacy of the previous location whereas it is easy to get lost in vastness of the Vegas location.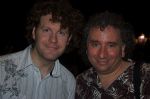 Geoff Smith and MyselfThat aside, the new location offered an opportunity for growth. Now with the blogging aspect being part of it, it should be a larger show by default.
While I am sure the organizers of the event can come up with few dozen good reasons to attend, I wanted to highlight some of the essential reasons for attending if you are doing new media professionally as I am or simply as a hobby.
1. Networking
So often as podcasters or bloggers you can find yourself working solo in isolation. Sure there is the internet, and perhaps this is one of the reasons Twitter is so popular among us as a vehicle bringing us together on the net. As great as the internet is in creating a global community, it does have its limitations.
Coming together in person is a great way to network with others as well as finally meet some of the people you may follow or listen to (or view) on the net or via podcasts regularly. It's one thing exchanging tweets with each other, but coming together in person fleshes things out a bit.
With that said, you can foster relationships in person that you may not have otherwise simply over the net.
2. Sessions
The Blogworld & New Media Expo offers plenty of workshop sessions if you choose to take advantage of the conference aspect of the show. I did so last year at the New Media Expo. They offer a wealth of information spanning the spectrum of new media. From the technical side to the business side and all things in between. If fact, last year I found myself rushing from one session to another because there were so much of interest to squeeze in during the course of the expo.
3. Keynotes
As with conference sessions, each day begins with a keynote address by a guest speaker. These are open for all attendees. Last year, the opening keynote address was given by none other than Gary Vaynerchuk of Wine Library TV fame. He brought on the thunder to open the event and electrified the audience.
The second day opened with a Keynote by George Wright of the popular Will It Blend? video series from Blendtech.
So even if you are not enrolled in the conference sessions, there will be keynote addresses as well as other demos to attend.
4. Exhibitors
The expo wouldn't be an expo without exhibitors there. Various companies and their reps will be on hand to answer questions, demonstrate their wares, show off new products and services, etc. Whether it is hardware, software, or various services that can empower a podcaster, blogger, etc. you can probably find it here.
5. Information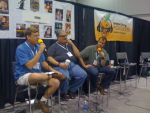 MacCast LiveAs stated above, there will be exhibitors from various companies that can address questions you may have about their products and services, but outside that, there is information to be had from fellow attendees, there are live podcast recordings taking place at the expo in addition to the aforementioned conference sessions.
6. Fun
Yeah, I said I was going to limit this to only 5 reasons, but I would be remiss to ignore the fun factor. There are some programed fun events taking place such as after hour parties put together by Blogworld, but it is also fun just meeting up with fellow new media people, podcasters you may have known for years through their shows and finally meeting them in person, podcasting at the event, and so forth.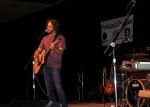 Jonathan CoultonOf course there is the whole Vegas thing... Casinos and whatnot. Plenty of attractions and entertainment offerings. But that may not be your thing or be part of your budget.
There may be meet ups planned with other podcasters outside of the event. Be it a photo walk or an informal gathering at one of the casino bars.
I myself am looking forward on seeing some 'old friends' from last year returning again such as fellow podcasters John F. Braun and Dave Hamilton of Mac Geek Gab, Allison Sheridan of the Nosillacast, Don McAllister of ScreencastsOnline, Victor Cajiao of the Typical Mac User podcast, and many others that have told me they will be returning.
Sign up now for BlogWorld and New Media Expo 2009
On a personal side note, it is too bad the Star Trek Experience had closed a couple weeks after last year's New Media Expo. I would had love to see it again this year.
Below is a video I shot at last year's New Media Expo using a small Flip Mino (SD) hand held camera of what are now known as "The Three Amigos" - Adam Christianson of The MacCast, Victor Cajiao of The Typical Mac User, and Ken Ray of the Mac OS Ken podcasts.
Even more than a year ago, the Apple tablet was the subject of discussion in tech circles. The unannounced product continues to be to this day.
Can't see the video? View this video on YouTube